Outing suggestion: Corgnac sur l'Isle!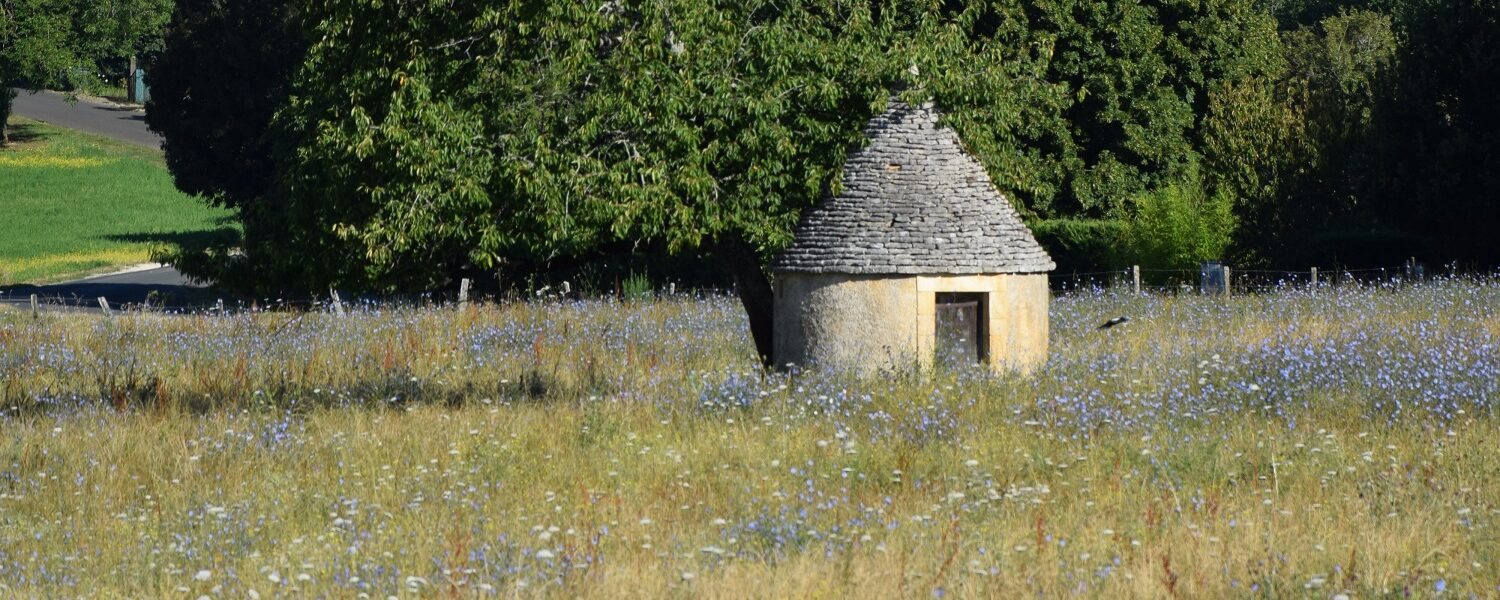 Corgnac is a village with thrilling history and heritage. The dinosaurs left their mark here 200 million years ago…
Fast forward a bit and Neolithic Man lived here. Richard the Lionheart even visited Corgnac in the Middle Ages.
Did you know? The paper used to make Grimaud playing cards was made at a mill in Corgnac sur l'Isle between 1910 and 1963. The card backs were printed here in the interwar period and the La Roche factory made ready-to-market cards in 1939!
The buildings and paths capture local history… Let's go! Follow the yellow-capped PDIPR markers!
Follow signs to Coulonges-Puyfébert-Cherveix from Place de l'Eglise then turn right straight after the railway line.
Stay on the former railway line that was turned into a rail bike track in 2004. Look at the hillside on the right and you can see Domaine de Montmady with its round dovecote.
Hit the path going up on the left towards Puyfébert. Along the way, look right to see the 15th and 16th century Château de Laxion roofs peaking out above the trees.
Go through the village of Puyfébert. There's an old barn here. Can you decipher the engravings ?
Cross the road to continue your journey. Look to your right and in the distance you can see a drystone hut standing in the middle of the field.
After one last cross, step into the forest among the oaks and shrubs. If you're visiting between May and August, keep your eyes peeled for wild orchids among the wildflowers.
Venture a little further and a little path on your left takes you to Le Cluzelet village.
Walk 800m along the road to the village of Leymeronie.
This little limestone village is bursting with personality. This village also has a cross. The area's crosses were renovated twenty years ago by the Amis du Vieux Corgnac friends association.
Now you're back on a little "sendarou" path leading to Fontarnaud subterranean river. In the event of heavy rainfall, you will have to go around the subterranean river to continue on your way.
Cross the road and keep to the path through the trees, fields, beautiful oak trees, poppies and hay bales depending on the season…
Turn right to go up then back down.
Turn onto the road on the left then right at Le Moulin de la Vigne.
Walk alongside a beautiful alley of trees and look out for the former railway bridge on your right!
Now you're back in Corgnac! Weren't the views fabulous? Tell us what you think !
If you'd like more hikes, head to Tourist Information where you can buy guidebooks for Thiviers, Jumilhac, Brantôme, Excideuil, Saint Pardoux la Rivière and many more !
To download