La Flow Vélo
vélo-route de Thiviers à l'Île d'Aix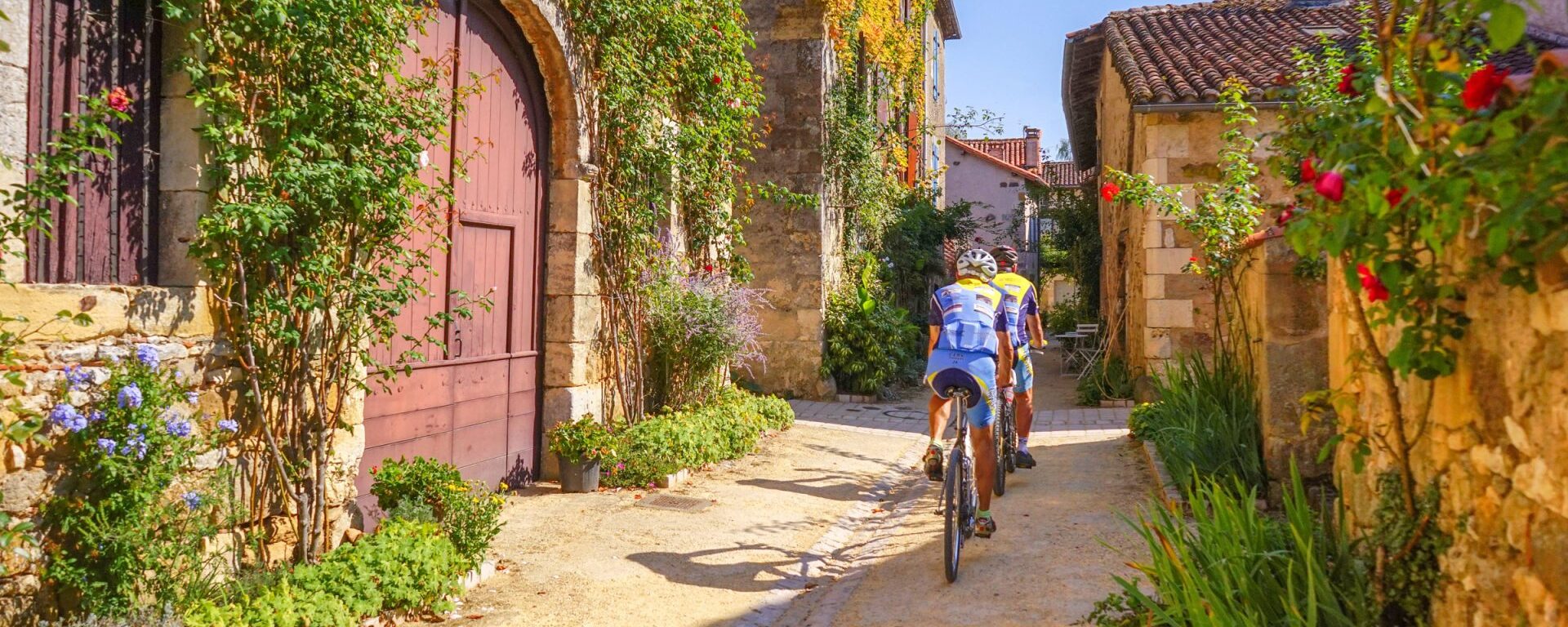 Experience a ride to remember taking you 290km from land to ocean along the Charente River. Work out as you explore built and natural heritage alone, with family, friends or your loved one.

Get away from it all on a bike ride to the ocean in Périgord Vert on the Charente riverbanks alone or with family…
Set off from Thiviers in Dordogne and cycle as far as Île d'Aix in Charente Maritime.
We're here to help you plan your epic adventure!
Today's the big day !
Book your accomodation or the night before so you're ready to go! You can drive or take the train to Thiviers.
Your ride takes you through three French départements: Dordogne, central Périgord Vert then Charente and Charente Maritime. Bikes ready? Let's hit the road!
3, 2, 1, go !
DAY 1 : THIVIERS – NONTRON (31km – Elevation : 366m)
Follow signs for "Flow Vélo" to get onto the Greenway ! It will take you to Saint Pardoux la Rivière then the road to Nontron.
In the meantime, you can always go off track to feast your eyes on some local gems :
DAY 2 : NONTRON – MARTHON (26km – Elevation : 285m)
Don't say "non" to Nontron ! Visit the Coutellerie Nontronnaise knife factory, Pôle Expérimental des Métiers d'Arts arts and crafts centre, château grounds and more.
DAY 3 : MARTHON – ANGOULÊME (32km – Elevation : 186m)
Pedal thirty-odd kilometres from Marthon to Angoulême has hosted the iconic Angoulême Internation Comics Festival since 1974. It's part of the UNESCO Creative Cities Network and bursting with hidden gems.
Now it's time to follow or ride along the Charente River to the ocean.
DAY 4 : ANGOULÊME – CHÂTEAUNEUF SUR CHARENTE (25km – Elevation : 145m)
This part of Charente is teeming with staggering towns and villages: Châteauneuf sur Charente, Jarnac, a port here, a dolmen there and an abbey over yonder! Plus a few beaches to cool off!
JOUR 5 : CHÂTEAUNEUF SUR CHARENTE – COGNAC (36km – Dénivelé : 136m)
Welcome to Cognac, a "Town of Art and History" since 2012! Feast your eyes on the incredible buildings here: Saint Léger Church, the Lieutenant's House, old streets, port and more. Check out what's on in Cognac so you can have a magical night out before you hit the road again! The town is also famous for its brandy with an AOC designation of controlled origin: Cognac.
Put pedal to the metal and in a matter of miles you're in the Charente Maritime area… and just 90km from the salty sea air!
DAY 6 : COGNAC – SAINTES (38km – Elevation : 94m)
Saintes, we're here! Travel back in time through its 2000 year history! Lock up your bike at Tourist Information then visit the Gallo-Roman amphitheatre, Saint Eutrope Church for its romanesque art and Abbaye aux Dames with its Musicaventure musical merry-go-round.
DAY 7 : SAINTES – SAINT SAVINIEN (26km – Elevation : 139m)
Ride 26km to Saint Savinien-sur-Charente.
Stop at Port d'Envaux for "a dip" in the Charente along the way (beach and lifeguards in summer).
Make a beeline for Lapidiales. if you love art. The former quarry is now a playground for sculptors who carve their masterpieces into the rock. It's like an ever-changing art gallery.
Saint Savinien sur Charente, Cabariot, Tonnay Charente and its amazing suspension bridge… you'll hook up with part of the Atlantic Coast Route (from Roscoff to Hendaye)!
DAY 8 : SAINT SAVINIEN – ROCHEFORT (39km – Elevation : 168m)
We've landed in Rochefort !
Rochefort is where the Hermione frigate was built, a replica of the 18th century three-masted ship.
It has been a "Town of Art and History" since 1987 and is just as famous for its Arsenal, Corderie Royale, museums and… The Young Girls of Rochefort film.
DAY 9 : ROCHEFORT – ÎLE D'AIX (27km – Elevation : 55m)
Can you smell the salty sea air yet? Another 27km and you're in Fouras.
Ride between roads and wetlands, tuck into oysters, cycle past Fort Vauban and Fort de l'Aiguille, cover the last few inches of the continent at Pointe de la Fumée then set sail Île d'Aix… Destination: Île d'Aix. The 3km long "little Corsica of the Atlantic." Get a warm welcome from the island and drink in 360° views as you feast your eyes on Fort Boyard.
Contact BICYBAGS for help transporting your luggage
Thiviers Tourist Information : +33 (0)5 53 55 12 50
In Thiviers (0 km  (strart)) : 
Luggage lockers with charging station: Place Jean-Paul Sartre

Bike repair point: Place Jean-Paul Sartre

Information board: in front of Tourist Information with the 0km sign.

Signs from the station to the centre then to the Flow Vélo bike path.

Long-stay car park on Place de la Perception (10 reserved spaces)

Bike storage facility (Place Jean-Paul Sartre)

Tables and benches (Place Jean-Paul Sartre)
In Saint Jean de Côle :
Cycle stands: Place du Château and Place du Tennis

Signs from the Greenway and Saint Jean centre
Useful information:
There are several guides available to buy : 
Le Guide du Routard
Le Guide Chamina
Le Guide Ouest-France
Contact BICYBAGS for help transporting your luggage
What's hot:
A route taking you through countless villages with personality

Several speciality dishes to try
What's not:
Signage issues in Angoulême