Périgord-Limousin
regional nature Park

Whether you explore it from east to west or north to south, Périgord-Limousin Regional Nature Park has lots going for it no matter the season.
Pretty villages, diverse landscapes, myriad produce, countless activities for all ages… Everything about the place oozes the generosity of a land where mankind and nature live in harmony. The Park is the place to meet, explore, soak up and connect with the land over a drink, an Assiette de Pays® tasting platter, at a château or deep in a nature site… The sky's the limit when it comes to unearthing the Park's gems !
So dive in and uncover everything Périgord-Limousin has to offer with our famous hospitality to boot !
Périgord-Limousin Regional Nature Park brings out a tourist guide every year that any visitor needs to explore the area. It includes: nature tours, things to do in the great outdoors, history and heritage, craftsmanship and local expertise.
(Re)visit it on the Périgord-Limousin Park trek, Vaque veire (come see) !
The trek takes you on a tour of Périgord-Limousin Regional Nature Park in several stages !
This signposted trail is your ticket to adventure with a leisurely flat path covering 200km (7-10 days walk or 3-4 days on a MTB or e-MTB !). Calling all hikers: ramble to your heart's content in valleys, plateaus, forests and countrysides. There's a special trek brochure available at our Tourist Information centres.
Things to do !
Budding fishers – e-MTB ride – Tree climbing
The Park provides a whole host of things to do including fishing, e-MTB and tree climbing at the park's visitor centre every summer (July and August), spring and autumn. Everyone's a winner !
Check out the guides to find out what's on !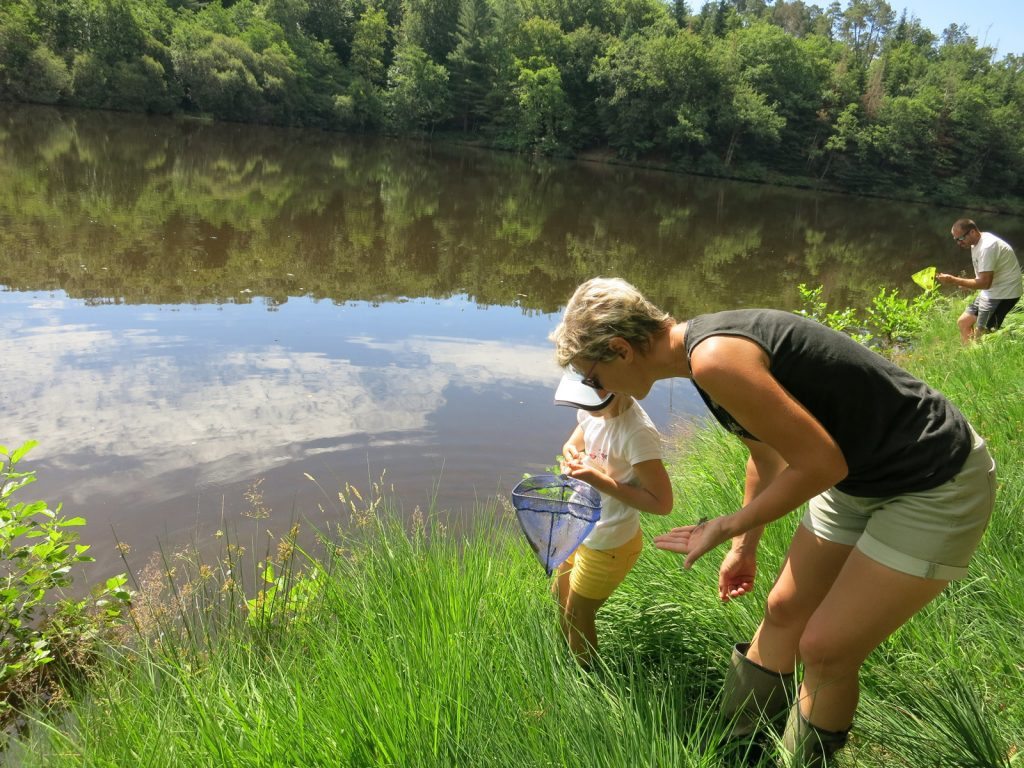 Endangered species …
(Photo) Lu Simou, yellow-bellied toad, a feast for the ears
Have you bumped into Lu Simou as you've splashed through puddles on the paths, bogs and muddy cow hoof prints?
It's a little toad that's no bigger than 5cm with a muddy brown back, a bright yellow belly and two big bulging eyes with cute heart-shaped pupils !!
his is like no toad you've ever seen before and it likes to keep its own company. To avoid predators and rivals, it always appears in the most unlikely habitats : temporary wetlands where it wants to live completely alone ! Who cares if that means living in mud !
People walk past without even spotting it !
What's the best way to spot it? It floats on the surface !
How do you listen out for it? It calls to its fellow toads with "simou", "limou", "uuu-uuu"…
So whilst you're hiking the paths, remember to look down from time to time and keep your eyes peeled for puddles… You may well look into the toad's loving eyes!
Watch the vidéo !
The freshwater pearl mussel
Don't go looking for it in the river ! Despite its name, it's very rare for mussels to produce pearls and when they do, they're tiny. But there are lots of mussels in the Dronne Upper Valley and that's because the water's so good.
Useful information
Visitor Center (administration centre)
La Barde
24450 La Coquille
+33 (0)5 53 55 36 00
What's hot
The park hosts family events every half term ! Check out the schedule !
What's not
The bullfrog is a resident here !