Le Château
de Jumilhac

Have you heard the legend of Louise de Hautefort "The Spinner"? No? Then get over to Château de Jumilhac!
You come face to face with the Château as soon as you reach the main square in Jumilhac. The entrance is built into a lofty curtain wall with a stone balustrade. In the background you'll spot the elaborate roofs, round towers, square towers and gable roofs whilst the stocky castle wings seem to have another story to tell.
The Monument Historique-listed crown jewel of Jumilhac le Grand takes pride of place on its rocky spur towering 40m above the Isle River.
It was built between the 13th and 17th century with spectacular roofing adorned by allegorical ridge tiles you won't find anywhere else in France. The brains behind them is Antoine Chapelle, the first Jumilhac count in 1597. During your trip you're bound to hear about the Château's alchemy past…
Step inside to visit The Spinner's bedroom and murals depicting her story, explore the dining room and its display case, kitchen with copper pans, main reception room and its carved wood Louis XIII hearth, hunting scenes by J-B Oudry and so much more.
A lime tree overlooks the French-style gardens at the back of the Château.
Learn about history and listen to tales of love and war… even at "night". There are evening tours on Tuesdays between June and September. The candlelit Château de Jumilhac is even more mysterious at nightfall !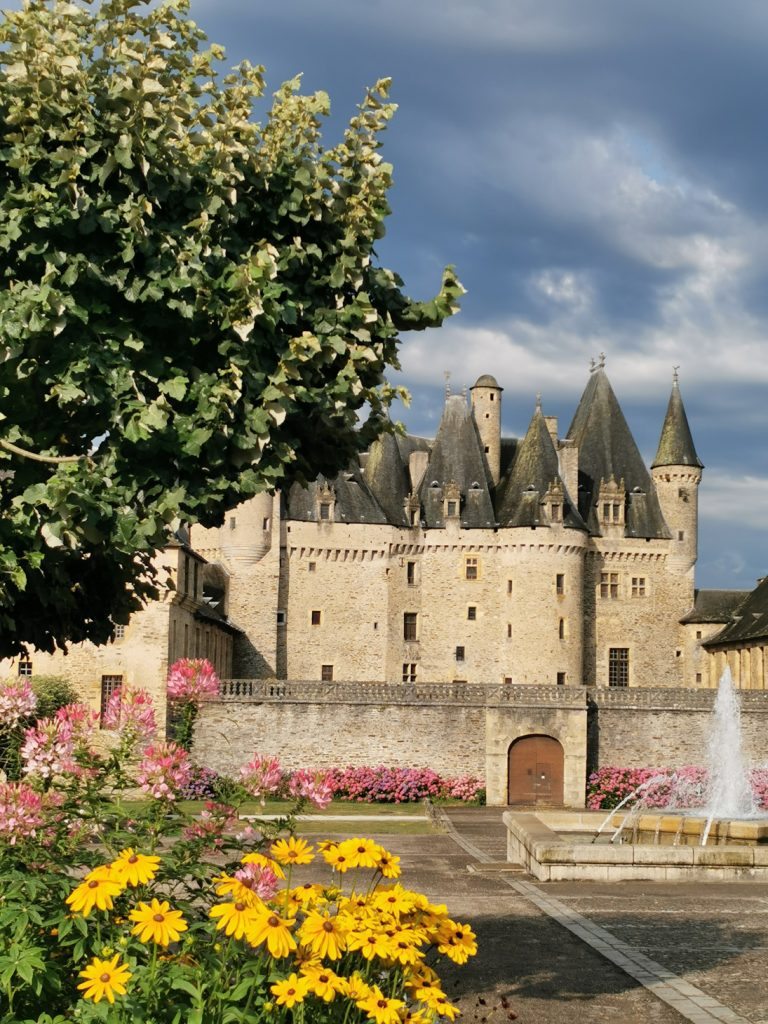 Opening times
02/01-31/03 and 16/11-31/12: Saturday and Sunday 2pm-6pm (closed Christmas Day and New Year's Day)

01/04-31/05 and 01/10-15/11: Daily 2pm-6pm
01/06-30/09: Daily 10am-7pm (9.30pm on Tuesday and Thursday evenings in July and August)
July-August: Tuesday dinners and entertainment available to book
Off season: Booking required
Admission :
Château guided tour
Château (guide) + grounds: standard 9.50€, concession 7.50€, child 5.50€
Large family: – 1€/ticket
Grounds only: standard 4€, concession 3€, child 2€
Roof tours (+2 €) booking required
Conctact
Place du Château
24630 Jumilhac le Grand
+33 (0)5 53 52 42 97/+33 (0)6 09 61 78 40
What's hot
The evening tours in costume on Tuesdays and Thursdays in summer!
What's not
The road there is pretty but with lots of twists and turns! Spare some time to soak up the scenery!